---
Krupówki
---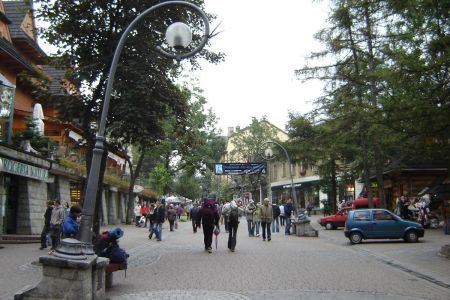 ---
Krupówki is one of the absolute must-sees of Zakopane. The pedestrian street running through the city centre is 1,100 m long. Most of the buildings located along Krupówki are occupied by numerous restaurants and highland taverns as well as souvenir shops, there is also a stop for the cabs.
Among the well-known and worth seeing buildings on Krupówki should be mentioned - Hotel Kasprowy Wierch, a neo-Romanesque parish church. The Holy Family, the historic building of the Vocational School Complex and the Tatra Museum located next to it.
The current shape of Krupówki was formed during a great fire, which on January 21, 1899, consumed wooden buildings in the centre of Krupówki. In their place the first stone tenement houses were erected, among others, Morskie Oko. in the 1990s, new cobblestones, new benches and characteristic inclined lanterns were erected in Krupówki. They give the street a very specific climate, especially after dark.
Until recently, the biggest problem of Krupówki was the pedestrian crossing through Kościeliska Street, connecting the promenade with the marketplace at Plac Gubałówka. Currently, an underground passage has been built here.
powrót / return