---
Zakopane Aquapark
---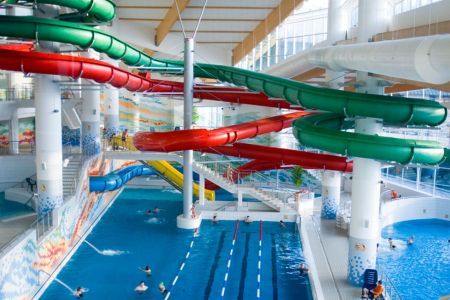 ---
The Aquapark in Zakopane is home to many great attractions. For swimming fans, two recreation and swimming pools have been prepared: an internal surface of 384.5 m2 and a length of 25 m with water at a temperature of 28.5 C with three swimming lanes (which can be hired with prior reservation) and with water jets in the recreation area, the pool has a depth of 13 -150 cm.
Outdoor pool with an area of ​​390.8 m2 and a water temperature of 28.5 oC. The outdoor pool on the terrace offers views of the West Tatras and Giewont. The recreational swimming pool located inside the building is a perfect spot for relaxing with the whole family - it is equipped with numerous hydromassage devices: water jets, cascades and underwater couches.
One of the main attractions of the Aquapark that will please especially the younger visitors is the tubular water slides - red (106m long, 12m high, max speed 26 km / h) and green (166.5m long, 16.7m high, and max speed is 26km / h ). In addition, there are 3 smaller slides in the aquapark. A paddling pool with a water temperature of 33 degrees will be a certain attraction for the youngest. In the Zakopane Aquapark - there are also numerous saunas, a restaurant, a shop with swimming goods, as well as the largest bowling alley in Zakopane.
powrót / return