---
The City Art Gallery
---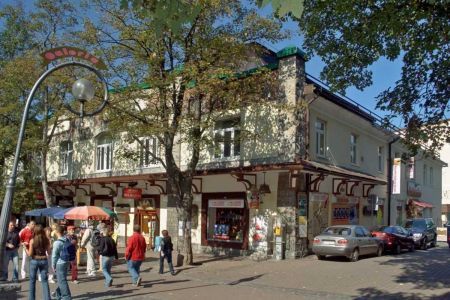 ---
The gallery presents professional contemporary Polish art in the country and abroad. It organises meetings with authors, screenings of films about art, poetry evenings and since 1977 intimate concerts and occasional concerts with the Karol Szymanowski Museum - "Atma" and the Musical Society of K. Szymanowski in Zakopane. The gallery also organises contemporary art fairs.
It is famous for its annual March Salons presenting outstanding personalities in Polish art at individual and group exhibitions. In the Zakopane Gallery, the works were presented, among others, by Maria Anto, Magdalena Abakanowicz, Tadeusz Brzozowski, Barbara Gawdzik-Brzozowska, Jerzy Duda Gracz, Władysław Hasior, Zdzisław Beksiński, Jerzy Nowosielski, and Jan Szancenbach. Antoni Rząsa, Jerzy Jędrysiak, Jacek Gaj.
The City Art Gallery occupies a room on the first floor of the former "Polish Bazaar". This building was built in 1911 by count Władysław Zamoyski. The first art exhibition took place in July 1911. From 1912, the organization of exhibitions in the Polish Bazaar was taken over by the Art of Podhale Society, presenting the works of the most outstanding Polish artists, including Wojciech Brzegi, Xawery Dunikowski, Julian Fałat, Vlastimil Hofman, and Stanisław Ignacy Witkiewicz, August Zamoyski.
On January 1, 2001, the City Art Gallery was established with its headquarters in Zakopane at ul. Krupówki 41, which was included in the Register of Culture Institutions of the City of Zakopane and entered into the Book of Reg. RIK 2/2001 kept by the Local Government of Zakopane.
On July 31, 2002, the City Council of Zakopane by Resolution No. XLIII / 436/2002 named the Gallery 'Władysław Count Zamoyski'.
The City Art Gallery has its own rich collection of artworks (painting, sculpture, graphics, drawing, fabric), which was created from purchases made by the Gallery over many years from the exhibitions presented. The collection includes, among others, the works of Henryk Burzc, Barbara Gawdzik Brzozowska, Marta Gąsienica Szostak, Władysław Hasior, Jerzy Jędrysiak, Urszula Kołaczkowska, Stanisław Kuskowski, Ryszard Otręba, Andrzej Pietsch, Stanisław Rodziński and Arkadiusz Waloch.