---
The Witkacy Theater
---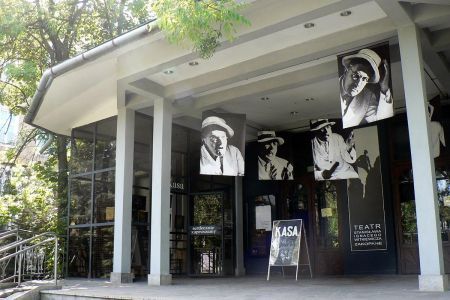 ---
The Witkacy Theater was founded in Zakopane by a group of PWST graduates from Krakow (Julia Wernio and Andrzej Dziuk and future actors including Dorota Ficoń, Karina Krzywicka, Piotr Dąbrowski, Andrzej Jesionek, Krzysztof Łakomik, Krzysztof Najbor and Piotr Sambor).
The idea itself was born among students from the Drama Directing Department and the Acting Department while still studying. On August 9, 1984, Witkiewicz's play 'Pragmatists' was staged.
After the enforcement of an official agreement with the Society of Theater Lovers Helena Modrzejewska's theatre began operating on February 24, 1985, with the staging of the play 'Autoparodia' based on Zakopane texts by Witkacy, directed by Andrzej Dziuka. The centre of the Theater at Chramcówki Street is the hall at the Chałubiński Hotel (formerly Andrzej Chramec's Hydrotherapy Plant, later the Red Cross Sanatorium transformed into the Chałubiński Sanatorium).
The series of theatre premiers is associated with the summer and winter tourist season. The art hall also hosts numerous art exhibitions, concerts and theatre festivals. It is currently a cultural institution of the Lesser Poland Voivodeship. From the very beginning until now (information from 2007), it is managed by one of the founders, Andrzej Dziuk, the director of most performances. The cast is still associated with the theatre from the first days: Dorota Ficoń, Krzysztof Łakomik and Krzysztof Najbor.
In 2004, the Gdańsk publishing house word/picture territories published a monograph on Barbara Świąder in a metaphysical hole. Witkacy Theater in Zakopane. Interviews with the creators of the Witkacy Theater are complimented with photographs by Wojciech Plewiński and documentation by Marcin Zawada.
Director Andrzej Dziuk and his team are the winners of the 'Konrad Swinarski' prize - awarded by the editors of the monthly 'Teatr' for the 1986/1987 season, 'for the creation and artistic activity of the Stanisław Ignacy Witkiewicz Theater in Zakopane'.