---
Ski Jumps
---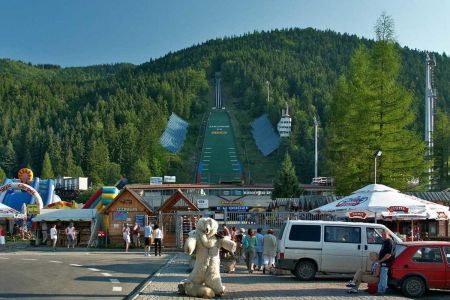 ---
The Great Krokiew, in the name of Stanisław Marusarz, is the largest among all the ski jumps found in Zakopane, with the construction point of K120. Located on the Northern slope of the Krokiew Mountain at the intersection of Bronisława Czecha and Józefa Piłsudskiego Streets, it is one of the most beautiful constructions of its kind. It owes its beauty to its natural location among the Tatra forests.
The area around the hill attracts with numerous stalls filled with souvenirs and attractions for children (quads, rope park, pony rides, and a small ski lift in winter). A parking lot has been prepared for motorized tourists, both for cars and coaches. The famous Bąkowa Zohylina restaurant is located on nearby Piłsudskiego Street.
Ski Jumping World Cup. Every year Zakopane organizes a number of ski jumping competitions as part of the World Cup and Summer Grand Prix competitions. The unique atmosphere during the competition is felt not only at the location itself but also throughout the city.
The record of the Great Krokiew was set during the World Cup in 2003, it is 140 m and belongs to the German Sven Hannawald. This result is treated as an official record.
powrót / return