---
Cable Car to Kasprowy Wierch
---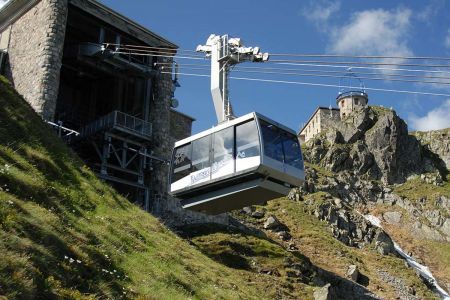 ---
The cable car to Kasprowy Wierch is the only alpine cable car in Poland. The ride to the top of Kasprowy Wierch mountain is 4,291.59 meters, but it lasts only a few minutes – the wagons can transport up to 60 people during the winter months and 32 people during the summer! The journey over the Tatra valleys is full of great views and provides an unforgettable experience.
The upper station of the cable car is located at an altitude of 1959 meters above sea level (just 26 meters below the top of Kasprowy Wierch) and along with the Meteorological Observatory it's a pair of the tallest buildings in Poland.

At the peak of Kasprowy, we can admire a breathtaking view of the mountains - Kasprowy Wierch is located almost centrally in the middle of the Tatra range. Leaving the peak, we can also start a hike - from the peak, the yellow trail brings tourists to Hala Gąsienicowa, the red ridge trail leads East through the Beskid, Skrajna and Pośrednia Turnia to Świnica, and West - to Czerwone Wierchy.
In winter Kasprowy Wierch provides the opportunity to practice some of the most beautiful winter sports - skiing and snowboarding. In addition to the cableway, there are two chairlifts at the Gąsienicowy and Goryczkowy reservoirs. Well-prepared ski runs and closeness to the mountains attracts masses of enthusiasts of the white madness. For skiers PKL in the Kasprowy Wierch area prepares a total of 14 km of ski runs on natural snow. The routes in the Kasprowy Wierch area are FIS approved for competition.
powrót / return