---
Gubalowka
---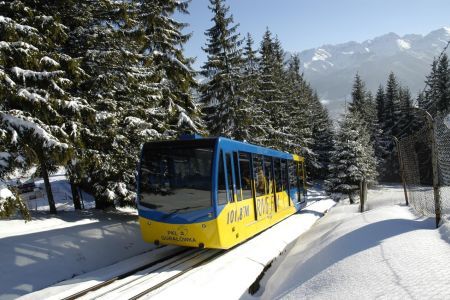 ---
The square below the Gubałówka is an extension of Krupówki, a newly built underground passageway under Kościeliska Street leads to it. The square is mainly a great marketplace where you can buy everything from sheepskin boots and shoes to fruit and flowers, and above all regional wooden goods, sheepskins and real highlander's oscypek and bundz.
It is possible that you will come across a group of people playing in the so-called three cups or three cards on the square, we sincerely advise against this form of entertainment, you can only lose a lot of money here.
Heading towards Gubałówka we will come to the building of the Polish Line Railways from where the funicular railway to the top leaves. For hiking enthusiasts there is also a road leading to the top - the trail begins on the left side of the PKL building. From the top, there is a wonderful view of the Tatra Mountains panorama and the dale in which the city lies. One of the newest attractions in Zakopane designed for enthusiasts of thrills is organized Bungy jumps from approximately a 90-meter crane.
powrót / return