---
Szymoszkowa Pool Relax near the House
---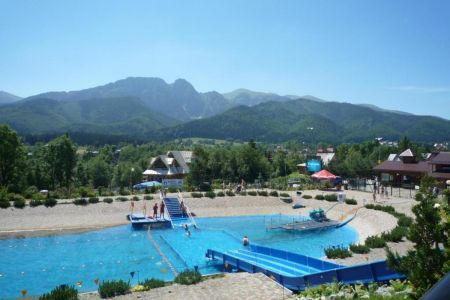 ---
The swimming pool operates from the 28th of June to the 31st of August, daily from 9 AM – 6 PM.
A waterslide, slides for children, beach volleyball court, beach chair rental and an inn, in which there are toilets, changing rooms and lockers for clothes are available to the guests of the pool.
The swimming pool at Polana Szymoszkowa was opened in the summer of 2007. The water used to fill the pools is sourced from the "Szymoszkowa GT1" geothermal well and has a temperature of about 30 ° C. According to research carried out by the Polish Academy of Sciences, the borehole water was classified as thermal, mineralized water. It consists of: calcium (37%), magnesium (36%), sodium (23%), potassium (2.3%).
powrót / return