---
Kościelisko for Runners Come and Try for Yourself
---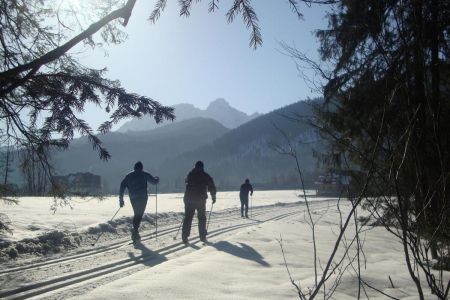 ---
In Kościelisko, one of the homes to cross-country skiing in Poland, where more than 30 Olympians in this discipline come from, cross-country skiing is one of the oldest winter sports, it is also tourism and recreation. The equipment available to us today allows you to combine healthy exercise with the pleasure of connecting with nature.
Kościelisko is a real-life paradise for cross-country skiing enthusiasts.
This is where at the foot of the Tatra Mountains that the terrain and the right microclimate allow you to maintain cross-country ski runs for several months a year much longer than in other parts of Poland. The cross-country trail was officially opened in January 2013. The founders of these routes were Halina Olejniczak, Maria Nędza and Wojciech Styrczula, members of the Tourism Development Association in the Kościelisko Borough. The founders set the route and obtained the written consent of all landowners who owned the areas through which the route runs free of charge. The borough, on the other hand, made channels enabling the establishment of the trail. Due to the founding of these trails, the borough council together with the head of the borough adopted a resolution on the allocation of funds for the purchase of a snow groomer, for professional preparation and maintenance of trails not only on Chotarz but also in Siwa Polana and Biathlon. There is currently a 10 km route, enjoying great interest.
The cross-country trail in Kościelisko was labelled the best in Poland in the first season of its existence, hence the idea of ​​"Kościelisko for Runners"! So, if you're a fan of exercise and indorse a healthy lifestyle and even in winter, you want to move and catch some fresh mountain air - come to Kościelisko. A professionally prepared cross-country trail is waiting for you with its beautiful surroundings and above all, stunning landscapes which will make you remember Kościelisko for a long time!
powrót / return